I don't know what it is about Stoner.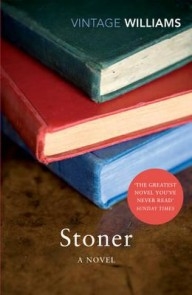 Fred Stenson alerted me to it, on a recommendation from his friend Greg Axelson in Cochrane.  And really, in some ways the novel is stylistically really flat – more summary than narrative.  And there are these odd descriptions – paradoxical, contradictory.  On their wedding night, for example, Stoner reaches for Edith and feels "a distant closeness to her".  What could a distant closeness be?  And yet somehow for these two painfully emotionally repressed people, the description seems apt.  I sometimes got frustrated with the way the severe psychological disorders of the players were not really acted on or explained or explored…but I can also see the power of this withholding, in the sense that the novel's form echoes its content.  Perhaps that's why the book, overlooked since it was published in the sixties, has recently enjoyed a resurgence.  A rebirth.
And what William Stoner says to the assembled peers at his forced retirement dinner is what I would have said four years ago, if somebody had offered me some acknowledgement of the fact that I was leaving the English department at U of C after twenty years as a sessional.  I would have said what he said:  "I want thank you all for letting me teach."   Because I am grateful that I was allowed to do that all those years.  It was a way of being.  A place to find myself.   For a time.